Meta descriptions are a brief description of your website that appears in header code of your website. This snippet of text can be used to entice searchers to click on your listing, so it's important that it accurately reflects what the searcher will find when they land on your site.
Meta descriptions should be between 150-160 characters to keep it from being truncated in the search results.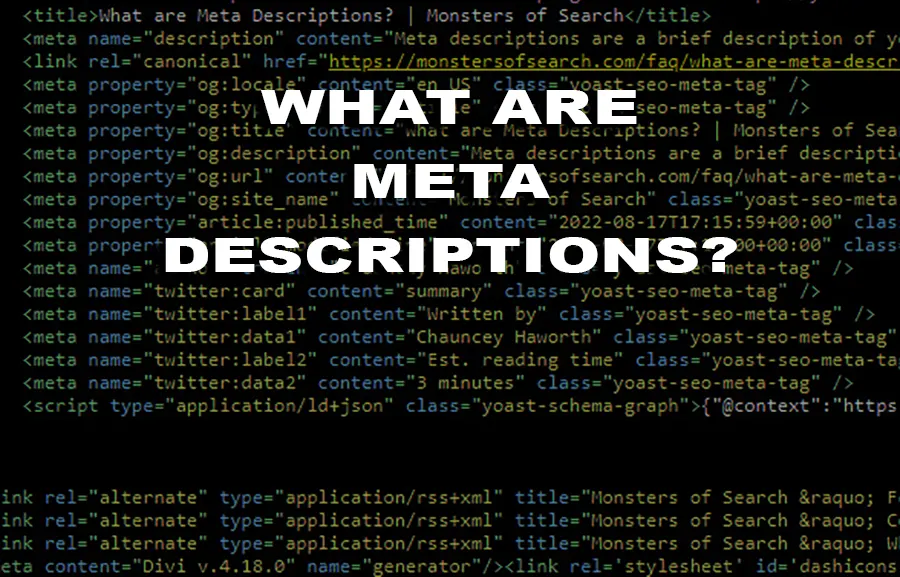 The meta description should not contain any links. It should only contain text about the page you want people to see when they do a search for something related.
What does a meta description do?
Originally, Google used the meta description as the description on your search result. Today, Google still may use the meta description or might generate their own from the content. Either way, Google is using the meta description to help better understand the content of your page. Seeing how Google could use it as the SERP description, it's important to create meta descriptions with the intent that it will be the search description.
Meta descriptions can drive traffic to your site. They should be compelling and engaging, as they can be one of the first things potential customers will see when searching.
Meta description length
Meta descriptions are limited to 160 characters.
Checking the length of your meta description:
The easiest way to check how long your meta description is is by using tools. There are many tools that can help find meta descriptions. Try Screaming Frog, it is my goto tool for title tags and meta descriptions.
How to write a meta description for SEO
Think of meta descriptions like an elevator pitch. They are short, informative and to the point. In order for them to be effective, you need to use your target keyword in your meta description.
The first 100 characters should have the most focus on using your target keyword or phrase. The closer to the beginning of the meta description your keywords are, the more weight Google prescribes to them.
Meta description example
A good rule of thumb when writing your meta descriptions is that they should be at least 150 characters long (this includes spaces between words), but no longer than 160 characters.
As an example, here is the meta description for this blog post:
Learn what a meta description is and how to write a compelling one. Meta descriptions are foundational SEO elements and can get you better click through rates.
The above meta description contains 27 words and 159 characters.
Keywords in the meta description
The meta description is an integral part of your page's SEO strategy, but it should also be written in a way that makes sense for humans. The first step to doing this is to include keywords in the meta description.
But where do you put these keywords? This depends on how much space you have available to work with and how important each word is compared to others.
Do meta descriptions influence rankings?
Yes, meta descriptions do influence rankings.
Your SEO-friendly meta descriptions can make your search result stand out and help improve your CTR.
The meta description is potentially what users see when they search for you. It's the first impression you make on a potential customer, and it can help increase your click-through rate (CTR) and rank higher in the SERPs.
Learning How to Craft a Great Meta Description is the Goal!
Meta descriptions are a great way to improve your search engine optimization. They're also very easy to edit whenever necessary, so there's no reason not to use them.